News

—
---
Work in progress talk
Thursday 11 June 2020
16:00 – 17:00
Video link! You can now watch my talk online:
Cécile Simonis S+S WIP Webinar from Design Informatics on Vimeo.
---
Work in progress talk
Thursday 11 June 2020
16:00 – 17:00
Register to attend my online talk!
I will present the work I am making during my residency at Inspace, Centre for Design Informatics, Edinburgh University as part of the Space and Satellites Artist Residency programme. Funded by DDI (Data-Driven Innovation) and supported by EFI (Edinburgh Futures Institute).
I will be joined by Dr Keiko Nomura, a senior analysist from Edinburgh based Space Intelligence. The event is free, and registration is through Eventbrite.
Click here for more info and to book a ticket ︎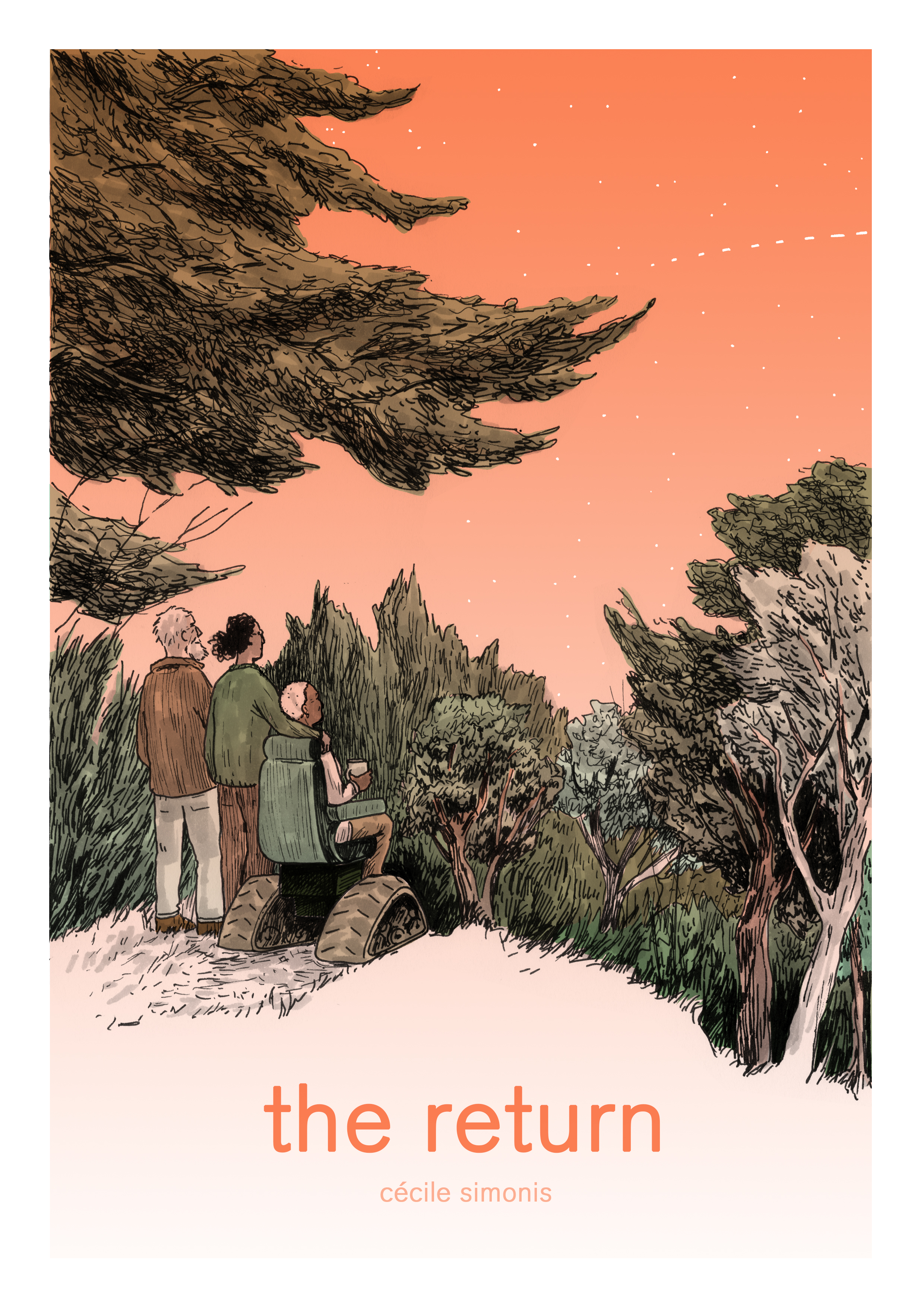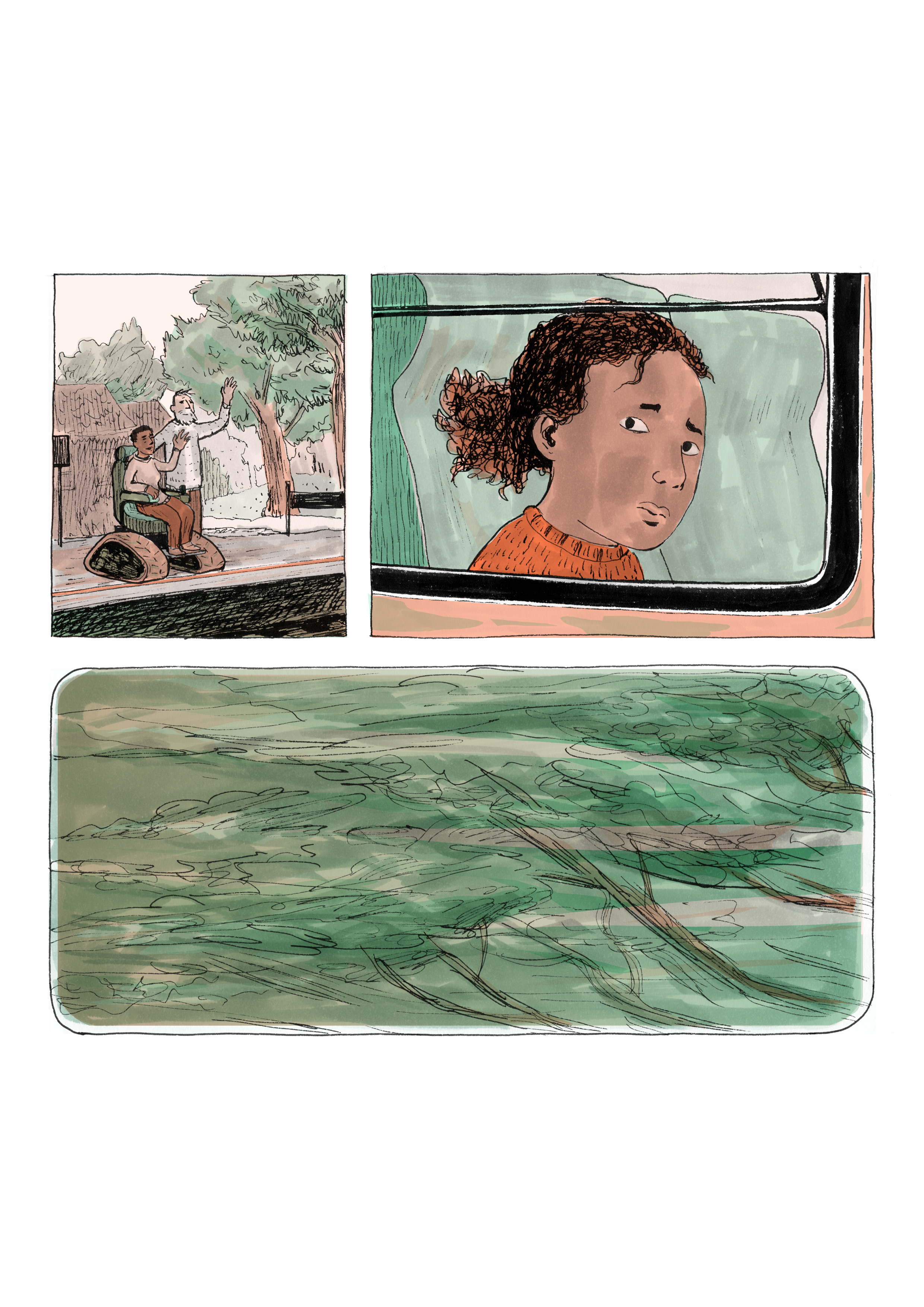 ---
Work on Satellite data

I am currently an artist in residence at Inspace with the Institute for Design Informatics (the University of Edinburgh) as part of the Space and Satellites Artist Residency programme. Funded by DDI (Data-Driven Innovation) and supported by EFI (Edinburgh Futures Institute). I'm learning a lot from scientists working in the field of biomass measuring and forest monitoring. Here is a poster that I've made. I will hopefully be able to have it riso printed soon. That will serve as colour test for the zine I am working on.
---
Inspace: Artist in Residence

I am currently an artist in residence at Inspace with the Institute for Design Informatics (the University of Edinburgh) as part of the Space and Satellites Artist Residency programme. Funded by DDI (Data-Driven Innovation) and supported by EFI (Edinburgh Futures Institute).
I'm delighted to have been selected as part of a group of 5 artists of very different disciplines to create work informed by satellite data.
I'm working on a zine and fictional narratives using satellite data as well as the science and processes behind the gathering of the data.
I'm really excited about the creative and learning opportunity this represents, and I'm getting nerdier by the minute!
The residency will last until mid July.
There will be work in progress and end of residency events (probably on line) that I will make sure to keep you informed on.
Here is a link to Design Informatics' website with more information on the residency.
https://www.designinformatics.org/research_project/inspace-artist-residencies/
The sketch shown here is my first (and celebratory) sketch of the residency. It shows Sentinel 2, a land observation satellite of the European Space Agency, rotating over our heads and taking pictures of the Earth's surface.
Don't hesitate to follow me on Instagram for more sketches and updates:
https://www.instagram.com/cecile.simonis/
And Design Informatics is on Twitter: @DesignInf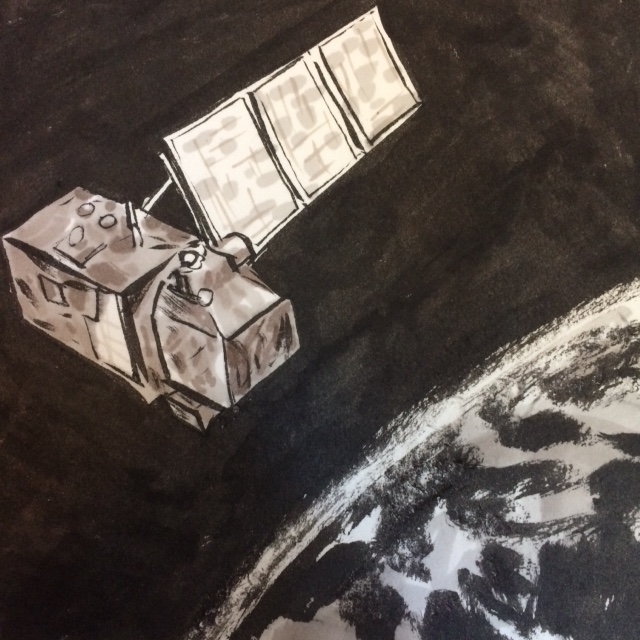 ---
I'm on Etsy!
I've just opened an Etsy shop called
Simonisaurus!
(of course..) I'm stocking it up at the moment. Go and have a browse!
You can now get your zines through your letter box if you're in seclusion - or live far away from windy Edinburgh.
I'm putting zines, small books and mini prints there.
Click here to have a look ︎
For those of you in isolation
, I can ship artwork worlwide (post permitting). Don't hesitate to be in touch if there is something you would like that isn't in my shop.
Typewronger books
has a few zines and books too, and a great selection of all sorts of books. He's my local bookshop and a great one to support. He delivers in Edinburgh and can post you books too.
---
New Stockist! Typewronger
The wonderful Tom at
Typewronger books
︎
just put a lot of my books on display in his shop. If you've never been, it is the best bookshop: full of books you've never seen, or books ou've always wanted! Very knowledgeable and welcoming staff. They organise tons of events and are a great place for the local community of our area or Elm Row/Leith in Edinburgh. They currently offer a lot of services (discounted delivery, advice, etc) to people staying home. In times of less contagion, I'd recommend to pop in: you'll get a cup of tea, a glass of wine,whatever you like, a great chat, brilliant books.There will always be a suprise for you there, and you'll always leave in an uplifted mood.
They also do specialist typewriters repairs and services.
I love this shop and I'm really happy my work is now in there!
Tom unwrapping my books!
---
Artists' Book Market this weekend
The Fruitmarket annual Artists' book Market takes place this weekend.
As their gallery space is currently being refurbished, the market will be at Customs Lane in Leith.
(1 Customs Wharf, Leith, Edinburgh, EH6 6AL). Open from 10 to 5 on the 7 and 8 March. Free entry.
Click
here
for more info and a list of participants.
I will be sharing a table with the wonderful Catherine Hiley who has just finished her epic Antarctic book 'The Winter Journey' (I remember her working on it back in 2012! The result is brilliant). Check out her website
here.
I have been busy making zines and experimenting with risograph printing and I am very excited to be at the market this weekend. Come and say hi!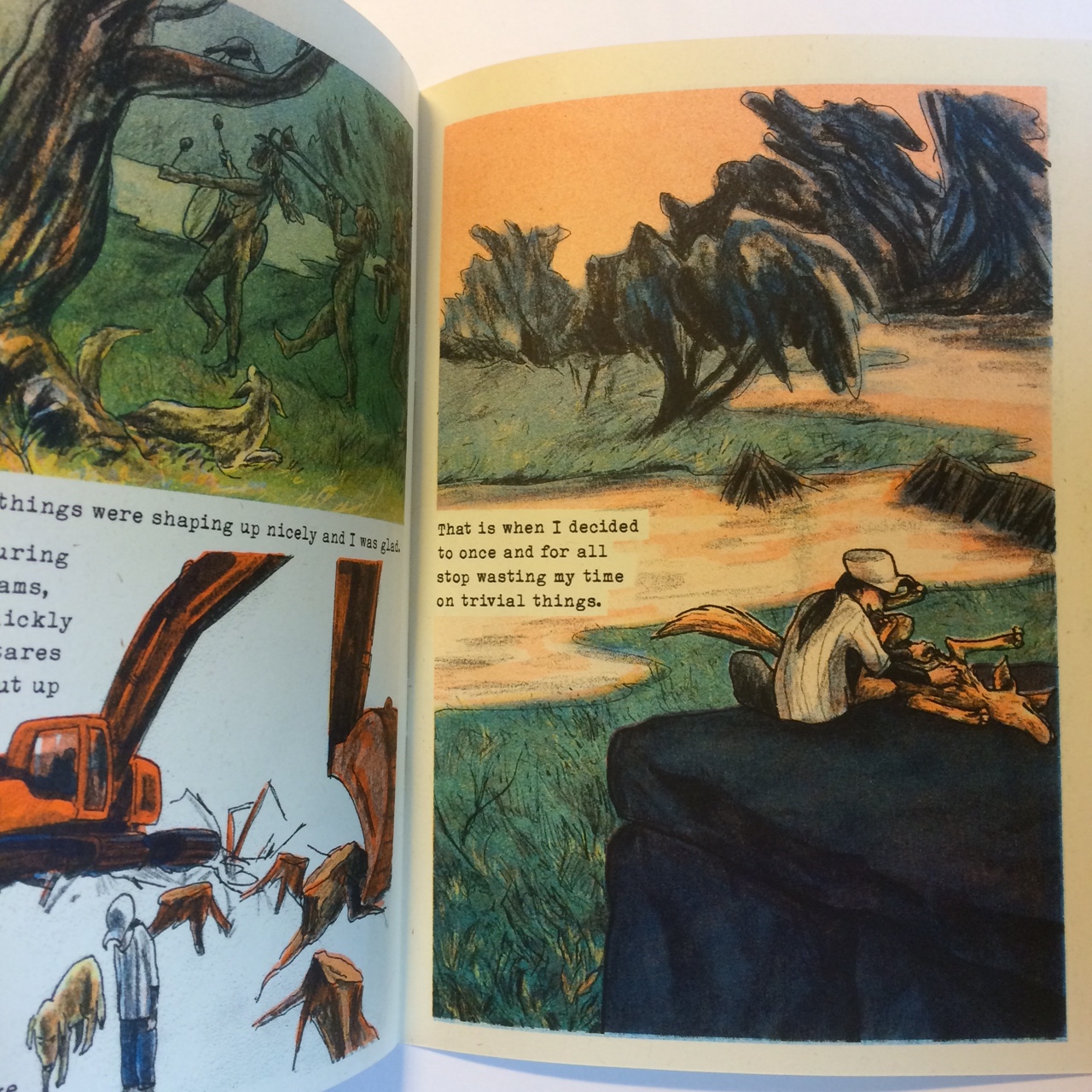 ---
SSA-VAS Open
I'm delighted to have a piece, 'The mask maker', in this year's show of the Society of Scottish Artists and Visual Arts Scotland,
'Open'
The exhibition is well worth a look! You might also find some of my gouache drawings in the browsers... It's on at the Royal Scottish Academy building on the Mound, Edinburgh, until the 30 January 2020
---
Utopia - What's Yours?
An Exhibition by the Society of Scottish Artists (SSA) One of my prints is included in this exhibition at the
Kirkcudbright Galleries.
The exhibition was previously displayed at Gracefield Art Centre. The show is on until the 1 March 2020.
---
Talk at ECA
On the 15th of November I was at Edinburgh college of Art to talk about my practise for the illustration students. It was great fun! Preparing for a talk is always a good opportunity to have a look at older pieces of work, take a moment to think about what I do and clarify my thoughts. Here is a link to ECA illustration's instagram (and a daft picture of me)
︎
---
First riso zine
In disguise, my first risograph zine is there!
Out of the blueprint
have done an amazing job (and they have a few in stock if you want to buy one).
I'm already working on the next one.
---
Edinburgh College of Art
I recently started teaching life drawing at Edinburgh college of Art. Teaching 4th year illustration students is super interesting and stimulating. I look forward to seeing what they'll put on the page! I love teaching life drawing and this is an exiting new place to do so.
---
---
Utopia - What's yours

AT GRACEFIELD ARTS CENTRE, THEN KIRKCUDBRIGHT GALLERIES.31 August – 2 November 2019 I have got a piece in this group show, alongsde so many interesting artists. Go and have a look if you're in the area.
---
Risograph!
Is a lot of fun. I've just been at the Out of the blueprint 2 colours riso workshop, and there'sdefinitely going to be more!
Here is my 2 colours pterosaur (called 'Eleven')
The New Edinburgh Printmakers

Edinburgh Printmakers is in their new beautiful premices. I'm teaching there once again in June
---


I just joined the Sculpture Workshop

And used their big kiln to fire
these masks.
My very own terracota army of birds.
---

Artist Book Market
at the Fruitmarket Gallery

9 and 10 February 2019, 11am to 6pm It's that time of year again!
I will be sharing a table with the great
Catherine Hiley
at the Artist Bookmarket on Saturday 9 and Sunday 10 February at the Fruitmarket.
Come and say Hi.
I will be showing handmade books and zines (including 2 new screenprinted books), and there will be tons of things to look at and discover made by more than 40 exhibitors.
I'm looking forward to seeing you there!
---
Society of Scottish Artists
Annual exhibition

23 December 2018-17 January 2019 Edinburgh's Royal Scottish Academy.
Two of my prints are part of this year's exhibition.
Installation, video and performance art are set alongside a strong core of painting, printmaking, and sculpture resulting in a dynamic, forward-thinking, courageous exhibition featuring established and new artists based in Scotland and internationally.
The exhibition will present works by over 180 artists selected from an open call alongside a curated selection of invited artists.
---
Subtle/Dazzle,
Winter Show at the Sutton Gallery

18a Dundas Street, Edinburgh
Until January
A few of my prints are on the walls of the Sutton Gallery for their winter show. The theme is 'Colour'. Go and have a look if you want to escape the grey of the streets.